Golf Apparel and T-Shirt Printing
If you need a new way to improve your business brand externally and internally, Snappy Printing and Graphics's Golf apparel printing service package is the best option for you.
Many of today's top businesses have their employees wear a special uniform that displays their visual brand. This benefits the business internally as the workers feel like they truly belong to the company. Uniforms also positively affect establishments externally as having uniforms project a sense of professionalism whenever clients and customers interact with official personnel.
If you want genuinely high-quality apparel products with your brand name, logo, and images imprinted on them, Snappy Printing and Graphics is here for you. We have every equipment and facility needed to print brands not just on shirts but also on other apparel products, like hats, towels, and bags.
Aside from producing employee uniforms, apparel printing can also produce a wide range of promotional items that any kind of business can take advantage of. With Snappy Printing and Graphics, you can rest assured that every printed product you ordered will be delivered right on schedule and on budget. We are the best option you can take for all your Golf apparel printing needs!
Call Snappy Printing and Graphics today at (773) 819-6191 for your Free Consultation with a Golf Apparel Printing expert!
T-Shirt Printing
The most common apparel printing product is a printed shirt typically made for employee designation or as a promotional item. Whether you need branded shirts as uniforms or as giveaway merchandise for an event, we can provide everything you need to get them.
T-shirt uniforms bring a positive impact to the workforce. Employees that have a matching set of clothes branded with their business logo can gain improved morale and a heightened sense of belonging and professionalism. Uniforms also help people feel more confident engaging with clients and customers who are typically more comfortable transacting with visibly authorized personnel.
As a top apparel printer, we always make sure to use the best quality of shirts and ink that we can get for every t-shirt project that we handle. Our industry-grade products are sure to come out as long-lasting apparel prints on any T-shirt regardless of the complexity of your brand designs.
Embroidered Logos
Screen printing is a good way to produce designed shirts that have quality looks and long-lasting prints. But compared to embroidering, consistent washing and usage can cause screen prints to fade over time.
Snappy Printing and Graphics uses state-of-the-art embroidery machines to produce embroidered logos, texts, and any branded images on a wide variety of apparel products, such as shirts, caps, towels, and bags. Embroidery involves directly attaching designs made of quality thread to the cloth, leaving no room for fading that happens in screen printing.
Embroidered apparel is a great tool to improve the professional image of your business. Employees who wear them will look official and trustworthy, making your clients feel more comfortable working with them and with your company.
Call Snappy Printing and Graphics today at (773) 819-6191 for your Free Consultation with a Golf Apparel Printing expert!
Promotional Items Printing
One great way to achieve customer recall of your business and your products is to use promotional items in your various events. You can distribute them during publicity drives or give them away as bonuses for each purchase of your main products.
Snappy Printing and Graphics can produce any promotional item you need for your business, whether branded gadgets or uniform overalls. We have every printing equipment needed to imprint your brand on any type of object. We can help you develop the designs you need in case you don't have them yet.
If this is your first time venturing into the promotional items industry and you're unsure which ones would be best for your business, we got your back. Just tell us all about your company, and our experts can recommend what best suits your brand, business type, personality, and budget.
Here are some of the promotional items that we produce:
1. Apparel (shirts, jackets, hoodies, etc.)
2. Drinkware (bottles, mugs, flasks, etc.)
3. Facemasks
4. Hand sanitizers
5. Office supplies (journals, planners, calendars, pens, sticky notes, etc.)
If you need these products within a certain budget and timeframe, all you need to do is go to us. As a top professional printing company, our experts can deliver your orders on time and within budget with ease and efficiency.
Custom Apparel & Sportswear Printer Near Me
Do you need inclusive jerseys for a local sports fest? Or perhaps you need a trustworthy producer of official sportswear for schools in the area? You came to the right place.
Snappy Printing and Graphics can custom-make any sports apparel that you need.
You can get them bearing any logo, text, or image that you want. We can help you find the best jersey or sportswear designs that would fit your brand. Special number fonts, dynamic visual elements, attractive color schemes–everything you need can be handled by our expert jersey printing team. We can make jersey designs from scratch, help you improve your creative ideas, or simply directly produce your sportswear after you've sent us the designs.
As your sportswear printing company, we make sure that our print designs are helpful in building the optimal comfort and mobility of the wearer. Just tell us what you need, and we'll help you create the amazing sportswear you're looking for.
T-Shirt & Apparel Printing Company Chicago
If you need branded tees and clothes, say no more. We have everything you need. As a leading Chicago, IL T-shirt & apparel printing company, Snappy Printing and Graphics has all the state-of-the-art clothing printing technology needed to produce the highest quality of apparel prints. From screen prints to digital prints, we can place any design you want on any object made of fabric.
As a leading custom t-shirt printer, rest assured that every textile product that you obtain from us will be in supreme condition for a long time. Our prints are made of the finest quality of ink, while our embroidery services are run by the best industrial printers. You won't need to worry about the budget you have or the schedule that you want to follow. Our t-shirt printing experts are professionals who are dedicated to working with excellence and top-notch workmanship from start to finish.
Full-Service Printing Company
Snappy Printing and Graphics is a trusted and leading player in the printing and graphics industry. Regardless of our clients' business type, industry, budget, schedule, product requirements, or branding, we offer them the best we can deliver. Our main goal is to create the best print products for businesses and individuals to help them achieve their objectives more efficiently.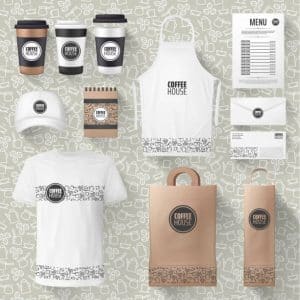 Our Golf apparel printing service package always involves getting to know our clients' businesses thoroughly, allowing us to find the best possible printing solutions for them. We take note of every important information, from design preferences to even all the legal requirements of their prints and signs. We are here to make sure you are well-informed about every decision you will make, including the best apparel material you can choose or how you can most effectively promote your prints.
From apparel printing, we expand our services to a wider range of products:
1. Large-format banner printing
2. Digital printing
3. Graphic design
4. Business cards
5. Brochures
6. Mugs
7. Mouse Pads
8. Desk Mats
9. Door Mats
10. Stickers
If you're not seeing the printing service that you need on the list, don't worry. These are just a few of the packages we offer. Plus, our company has experts on custom-made print products. So whatever you need, even if you think the design is too unique or unknown, we are here to help you out!
Let's Talk – Free Consultation Today
Among the many important parts of running a business, the confidence and comfort of both your employees and clients are two of the ones that our Golf apparel printing can solve.
With branded uniforms, your workers will feel and look more professional, giving your company a good image to your clients. Moreover, our apparel printing services can also bring you amazing promotional items for business and personal use.
Snappy Printing and Graphics is your best option in getting the best apparel prints that you need. Just give us a call, and one of our specialists will get to you immediately to discuss your options!
Call Snappy Printing and Graphics today at (773) 819-6191 for your Free Consultation with a Golf Apparel Printing expert!